Single Use Medical Products
Single Use Medical Products
The medical products market for plastics totals 1,370.0 million pounds, corresponding to revenues in excess of $1 billion in 2012 in North America alone, according to a new 2012 study by Frost & Sullivan. Additionally, forecasts are that by 2018, revenues will reach $1.45 billion. Today there are no other companies offering plant-based resin medical products except Innovative Bottles. We are pioneering the way for ECO friendly products that not only change our environmental landscape but the way the medical industry does business. With our patented PLA Technology we can also offer licenses to strategic partner to produce products in their facilities. Our PLA Medical Products exhibit the following dynamic features:
Patented Medical Bio Resin PLA Technology

Identical Look and High Performance Function as conventional plastics.

Reduces Carbon Footprint
Reduces Greenhouse Gases By 32% Over Polypropylene (PP) Plastic
Uses 42% Less Energy In Production than Polypropylene

Multi-Dose Syringe Pen, Sharps Container, Suction Canister

Can Be Recycled Indefinitely and is Environmentally Safe leading

 

to ZERO WASTE.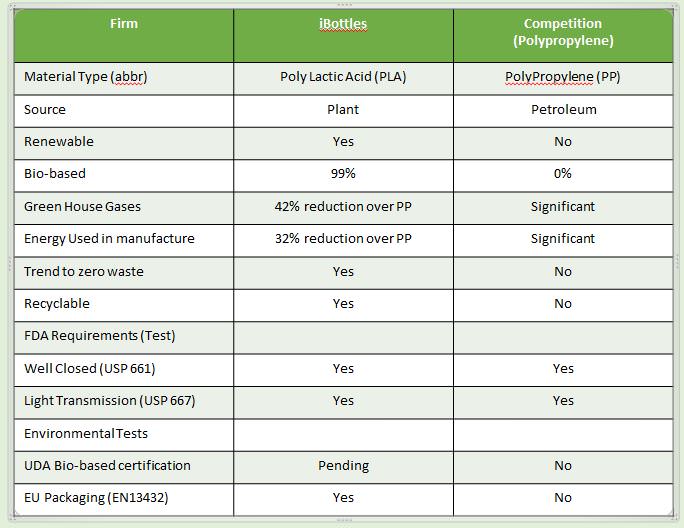 | | | |
| --- | --- | --- |
| IP # | Description | Status |
| US8,519,018B2 | Biodegradable Material and container for Fluids | Issued |
| US8,852,157 B2 | Disposable Items made from Bioplastic Resins | Issued |
| US9527619B2 | Biodegradable pharmacy containers and safety cap | Issued |
| US10172979B2 | Disposable containers and speculums | Issued |
| US10457021B2 | Bio Resin Paperboard Containers and Cartons | Issued |